35th Annual Crystal Ball, presented by Nicola Wealth, raises over $6.76 million for BC Children's Hospital
On Saturday, November 20, 2021, more than 350 guests came together for the 35th Annual Crystal Ball , presented by Nicola Wealth, raising over $6.76 million to help conquer childhood cancer. This generous support will help advance life-saving oncology research that will give new hope to children across BC battling hard-to-cure cancers.
On this Emerald Anniversary evening, guests joining in-person from the Fairmont Pacific Rim and from homes across BC pushed the boundaries of what is possible for the talented  team of experts at BC Children's Hospital who are tirelessly fighting for the one in five children with cancer who don't survive.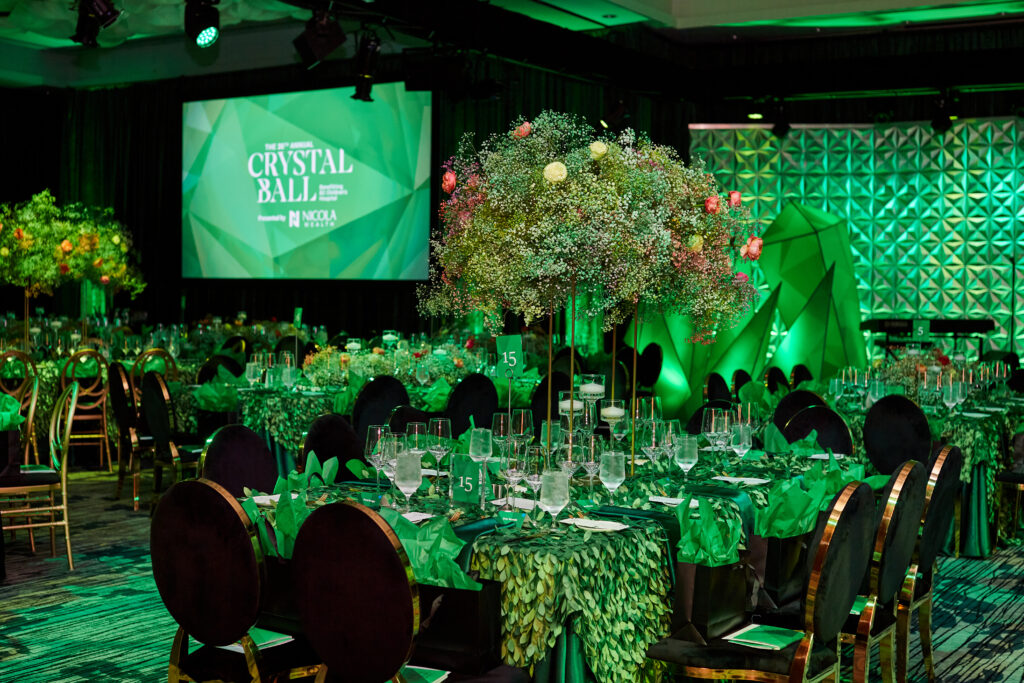 This year's event was brought to life through the visionary leadership, hard work and dedication of the 2021 Crystal Ball Committee, led by Co-Chairs Arya Eshghi and Helen Rivero.  By thoughtfully connecting both in-person and at-home experiences, Crystal Ball's first hybrid gala was a testament to this group's creativity and innovation.
Set against a backdrop of  stunning emerald, Crystal Ball . reflected the virtues represented by the emerald—truth, love and hope. Returning Master of Ceremonies Chris Gailus of Global BC, and the ever-engaging auctioneer Fred Lee inspired guests and rallied support as they introduced powerful stories and messages from patient families, the oncology team at BC Children's, and key supporters who made the night .
"For families battling childhood cancer, their fight is more than a physical one—it is an experience wrought with uncertainty over the outcome. This is why the support raised through Crystal Ball is so critical for these families," said Malcolm Berry, President and CEO, BC Children's Hospital Foundation. "Not only will it fast-track life-saving oncology research that will uncover safer and more effective personalized treatments for children fighting the most aggressive cancers, it will also ultimately change the experience of their families from one of fear, to hope. I'm immensely grateful and inspired by the commitment of this community who is making this change a reality."

Kamryn's Full Story
Throughout Kamryn's five-year journey with cancer, she and her family navigated the ups and downs they've faced with strength and determination. We are coming alongside her and other families across BC who are battling childhood cancer to create a brighter future for all of them.
---
For more information about the Crystal Ball, please email crystalball@bcchf.ca.
In accordance with BC Public Health Orders, all attendees (guests, staff and vendors) at the Fairmont Pacific Rim will need to complete a COVID Self-Assessment prior to attendance and will require proof of double-vaccination upon arrival at the event. Attendees will be asked to follow current masking guidelines while attending the event.
Your comfort, safety and experience are of utmost importance and we look forward to working with you to curate your evening, either in-person or at-home. Tickets are non-refundable.