Saturday, November 20, 2021
Fairmont Pacific Rim or At-Home Experience
In-person event begins at 5:30pm
At-Home virtual event begins at 6pm
The 35th anniversary of Crystal Ball marks a milestone in our community's efforts to transform care for kids in BC and conquer childhood diseases. This year we continue our quest to give new hope to the one in five kids with hard-to-treat cancers that don't make it.
Join us for a unique and engaging evening as we celebrate the 35th Anniversary of Crystal Ball. Whether you choose to join our virtual gala from the comfort of your home, or in-person at the Fairmont Pacific Rim we look forward to welcoming you to this year's Crystal Ball.
Join our longtime gala emcee Chris Gailus, and the charismatic Fred Lee as we share an exclusive evening together, united in our mission to dare to dream of a future where every child conquers cancer.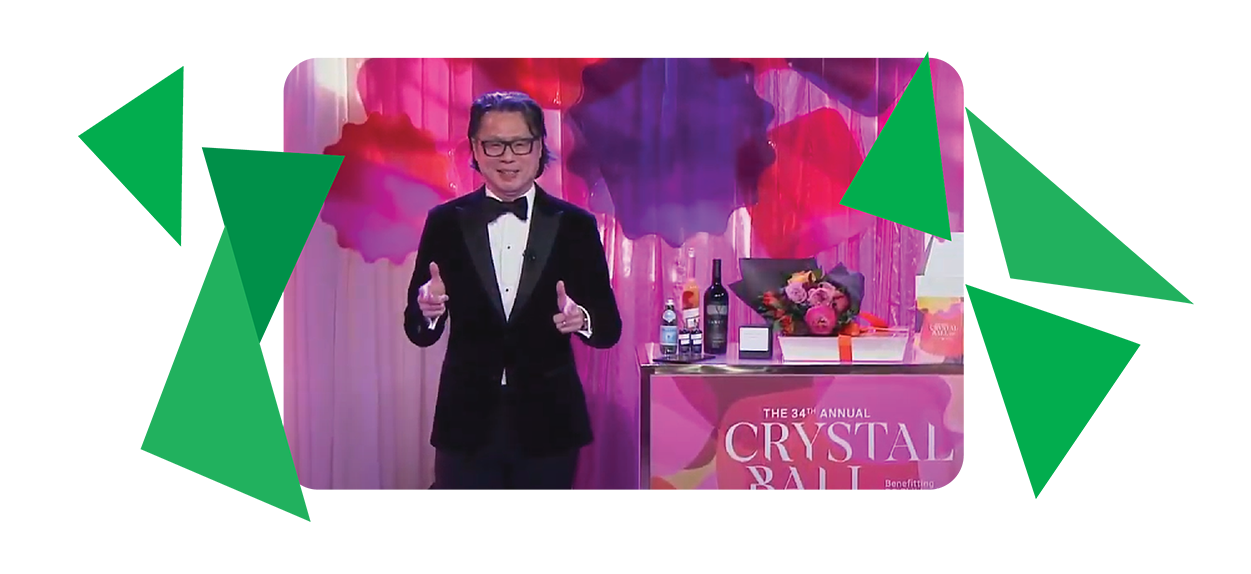 Ticket information
$20,000 Caring Circle Table Package for 10 – At Home (In person SOLD OUT)
$12,000 Caring Circle Package for 2 – At Home (In person SOLD OUT)
$1,000 Individual Gala Ticket – At Home (In person SOLD OUT)
$500 Virtual Only Ticket
Whether you are joining from home with your beautifully curated gala box or in person from the Fairmont Pacific Rim, you and your guests will enjoy an exceptional evening, including:
An exquisite 3 course dinner courtesy of the Fairmont Pacific Rim
Fine wine from Vanessa Vineyard
Beautifully curated silent auction
Inspiring stories from our courageous patient families, including the Exley Family
Exclusive conversations with leading BC Children's Hospital clinicians and researchers
Coveted access to the Crystal Ball raffle, featuring stunning items from Rodeo Jewellers
Unique Emerald Anniversary gifts
And more
Our virtual gala will be integrated with our in-person event at the Fairmont Pacific Rim as we join together for this milestone celebration and to support our mission.

Kamryn's Cancer Diary – Part 4
Hope, faith and fear are just a few of the emotions Kamryn and her family have navigated during her cancer treatments. But when COVID-19 hit, the complications only escalated.
In part 4 of Kamryn's video diaries, we learn how the team at BC Children's Hospital used their resourcefulness and unshakable determination to ensure Kamryn received the life-saving treatment she needed.
---
For more information about the Crystal Ball, please email crystalball@bcchf.ca.
In accordance with BC Public Health Orders, all attendees (guests, staff and vendors) at the Fairmont Pacific Rim will need to complete a COVID Self-Assessment prior to attendance and will require proof of double-vaccination upon arrival at the event. Attendees will be asked to follow current masking guidelines while attending the event.
Your comfort, safety and experience are of utmost importance and we look forward to working with you to curate your evening, either in-person or at-home. Tickets are non-refundable.