Engage your customers
Every year, tens of thousands of kids will visit BC Children's, many of them suffering from devastating diseases and chronic conditions. As the only children's hospital in the province, they count on BC Children's for specialized care they often can't receive anywhere else.
This May, Jean Up and show your customers what you stand for: helping sick and injured kids get out of their hospital gowns and back into their own jeans.
Get your customers involved
While the pandemic may limit your interactions with your customers to video calls, emails or greetings behind Plexi glass, Jean Up is the perfect way to reconnect with your customers and rally their support for a worthy cause while staying apart. Since the month-long movement has gone digital, it's easier than ever to participate.
Here's how it works:
Collect donations by sharing your co-branded donation link with your customers through your digital communications
Pick any day in May to Jean Up
Sell Icons
Selling paper denim icons are a great way to involve your customers. We'll provide you with icons that you can sell for a suggested minimum of $5 at the till—and then all you need to do is creatively display them in your retail space to show your support for BC's kids. We also provide sticker dispensers so customers can help themselves to one of four designs to wear proudly.
Promo kits 
Your 2022 promo kit will include:
2 rolls (300 stickers) to be placed at point of sale locations
5 posters that explain Jean Up
150 icons to sell for a suggested minimum of $5 at the till
5 sheets of stickers for your staff to wear during the campaign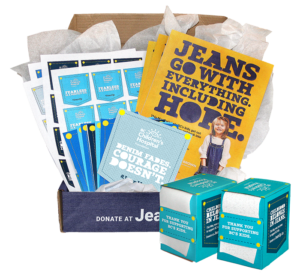 Share your #JeanUp selfies with us
Don't forget to tag @bcchf on your social media channels, or email photos of your employees and customers in their best denim outfits to jeanup@bcchf.ca. You can also add a virtual Jean Up sticker to your post by entering BCCHF into the GIF search. We'd love to share them throughout the month of May.
Looking to engage your employees in Jean Up? Learn more here.