Engage your students
Last year, nearly 100,000 kids visited BC Children's Hospital—that's almost one student in every classroom in BC. This May, encourage your students to come together and wear jeans to show what they stand for: helping sick and injured kids get out of their hospital gowns and back into their own jeans.
Get your school involved
Jean Up is a powerful way to promote a sense of togetherness in a fun and COVID-safe way during a time of social distancing. It is a chance for students and staff to show off their denim style for a day in support of BC's kids while fundraising online.
It's easy to get involved with Jean Up:
Sign up your school (Registration is now closed for 2021)
Collect donations online by sharing your school's donation link
Pick any day in May to Jean Up
We will provide stickers for all students to proudly wear
We will provide all the tools you need—including messaging for newsletters and a poster to celebrate progress. Download your Jean Up poster, digital assets and social media toolkit here.
Promo Kits
The deadline to receive a physical promo kit before May has passed.
Your 2021promo kit will include: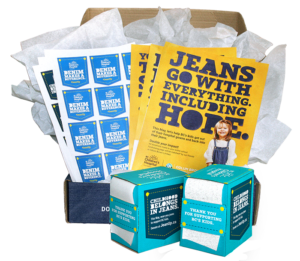 Double your school donation
This year, every dollar you raise will go even further. Our friends at Odlum Brown Limited are matching* all donations made through your school fundraising pages throughout the entire month of May.
* Gifts will be matched from May 1-31, up to a cumulative total of $30,000.
Share your #JeanUp selfies with us
Don't forget to tag us @bcchf on your social media channels, or email photos of your schools in their best denim outfits to jeanup@bcchf.ca. You can also add a virtual Jean Up sticker to your post by entering BCCHF into the GIF search. We'd love to share your school's denim pride throughout the month of May.