New advances in the time of COVID-19
As cases of the COVID-19 virus began to surface across BC earlier this year, it wasn't long before the entire province went into lockdown. Schools and businesses had to close, loved ones had to limit their in-person interactions, and the health care system had to drastically pivot—and in short order.
Here at BC Children's, one of the province's 19 primary COVID-19 hospital care sites, experts mobilized to ensure that the hospital was prepared to meet rapidly evolving needs, including readiness to provide acute COVID-19 care, if required—while protecting immunocompromised patients and continuing to deliver the highest level of care to kids and families.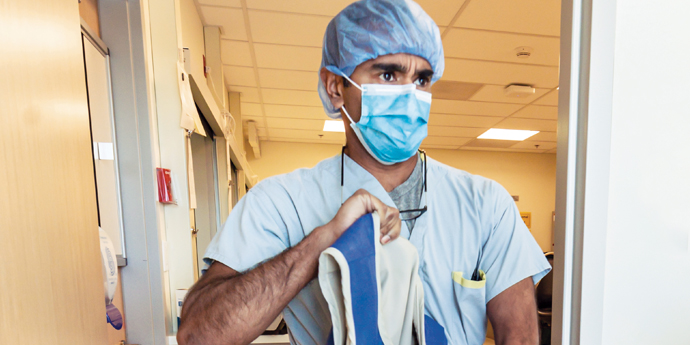 In the face of this pandemic, compassionate supporters from all across BC rose up, responding quickly to help the hospital meet these new challenges. It was a powerful display of philanthropy and leadership—and the generous and immediate outpouring of support made it possible for the hospital to quickly make advances in care and research that were critical in light of the growing pandemic. Here's a look at several of them.
Virtual care a record speed
Just weeks after the pandemic hit, BC Children's Hospital Foundation partnered with BC Women's Health Foundation to raise funds for critical virtual health technology to help more kids and families across this vast province receive world-class care, where and when they need it.
Fully funded by donors, the newly acquired, state-of-the-art telecommunications equipment is already enabling patients to receive care from the safety of their homes.
"With this progress we're starting to see in virtual care,  I can envision a future where our health care system will be forever changed—in ways benefitting more families from all corners of the province," Dr. Jana Davidson, BC Children's Chief Medical Officer said.
A better hospital experience
The effects of the pandemic were quickly felt across the hospital—and continue to impact daily life for the kids, families and health care providers who consider BC Children's a second home.
At a time when children were already feeling isolated, physical distancing measures meant that playrooms had to close—and Child Life Specialists quickly saw a need for games, books, art kits and more to comfort and engage kids having to stay in their hospital rooms. Thoughtful donors immediately offered to help, enabling the hospital to purchase 20 tablets so kids and families could stay connected to loved ones and gift cards for coffee and food to support families.
The generosity of donors also touched health care providers during this intense period, in which they have been working tirelessly to deliver care despite enormous challenges. To lighten their daily load, donor support provided meals, snacks and gift cards, as well as a new dryer to handle larger loads of personal protective equipment, and enable faster drying.
Dozens of new research studies
To better understand the impact of this virus on kids, top research minds at BC Children's Hospital quickly launched new studies—46 in total—related to COVID-19.
One study, led by Dr. Quynh Doan, a researcher and pediatric emergency physician, is assessing the impact of COVID-19 on the mental health of children.
Most recently, Canada's first mouth rinse and gargle COVID-19 test for children was developed through collaborative efforts from several leading health organizations, including BC Children's. Investigator and medical microbiologist Dr. David Goldfarb led the development and clinical evaluation of the test, which has now transformed the experience of testing school-aged kids.
Lasting change
The pandemic has presented extraordinary challenges to the way kids and families at BC Children's and across the province receive care. And yet, through the generosity of the community, we've also witnessed truly exceptional acts of altruism that will transform how care is delivered—today and in years to come. Thank you for making these strides possible.