How eating local this fall helped change lives
In early March, with the 25th Annual For Children We Care Gala just days away, supporters from the community at-large, including corporate and philanthropic leaders, were looking forward to celebrating a quarter century of  tremendous support of BC Children's from the Chinese Canadian community.
On the heels of many seminal achievements, this year's milestone event was intended to raise critical support towards its $5 million goal to help kids with serious orthopedic issues like scoliosis (curved spines) and traumatic injuries, whose lives would be impacted by how quickly advances in clinical research and surgical care could occur. But then the pandemic hit, and the difficult decision was made to postpone the gala.
Determined as ever to continue supporting the hospital's world-leading orthopedic team, the deeply committed 2020 gala committee took the next several months to reimagine other ways to raise this vital support. And this fall, that's exactly what they did. In advance of the Mid Autumn Festival on October 1, the second-most important festival in Chinese culture and its equivalent of Thanksgiving, they helped launched a new initiative called the Mid Autumn Festival for Children.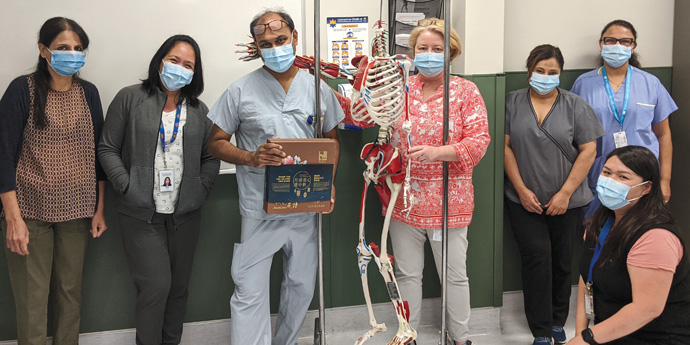 Orthopedic surgeon Dr. Kishore Mulpuri (third from left), 
and members of BC Children's orthopedic team, showcase
a Mid Autumn Festival for Children mooncake set
Through the incredibly generous support of sponsors like Drive Motorsports Ltd., King's Auto Lease and King's Auto Spa, and by partnering with local Chinese bakeries and diverse restaurants, the initiative helped the community celebrate this festive season, while also supporting BC Children's expert orthopedics team through the sale of mooncake gift sets and restaurant certificates.
The results were remarkable: over $84,000 raised to help accelerate  advances in orthopedic care and research. In these unprecedented times, the unwavering commitment and compassion of the local community truly helped to make a difference in the lives of kids across the province.