Escape from Quarantine adds BC Children's Hospital Foundation as recipient of charitable donations from its newest virtual escape room fundraiser – Through the Wormhole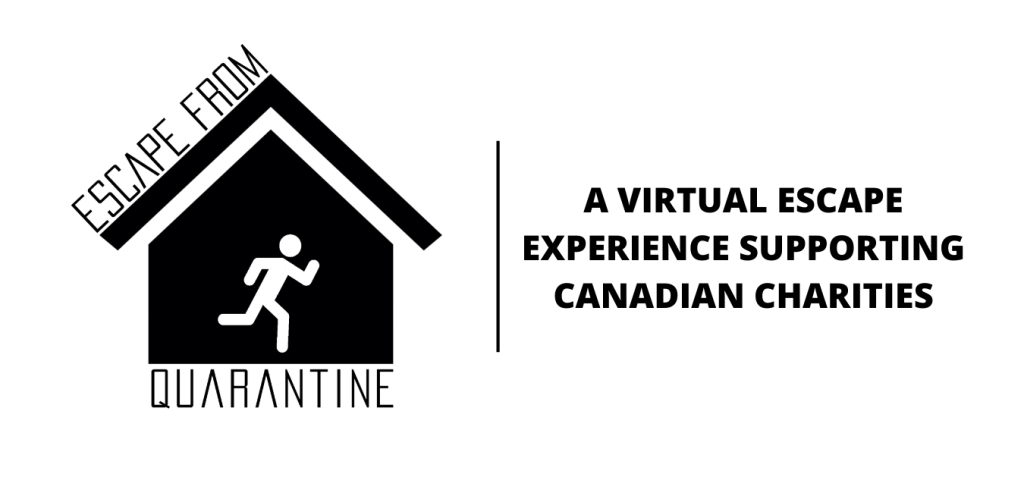 Escape From Quarantine is excited to announce that SickKids Foundation and BC Children's Hospital Foundation will now receive charitable donations from Escape From Quarantine's latest virtual escape room fundraiser – Through the Wormhole. The fundraiser launched on November 25, 2020 in support of the CHEO Foundation, a member of Canada's Children's Hospital Foundations (CCHF). Within less than 2 months' time, Through the Wormhole raised over $50,000 in support of the children and youth at CHEO. As a result of the initial success of the fundraiser, it was decided that, in addition to the support of the CHEO Foundation, which will continue, support could also be extended to these two new recipients focused on children's healthcare across Canada.
Through the Wormhole is the successor of the original game, Escape From Quarantine, which was launched as a fundraiser for Food Banks Canada COVID-19 Response Fund. The original game raised over $43,000.
Like its predecessor, Through the Wormhole provides an all-new escape room experience which is played entirely online. Through the Wormhole can be played either together at home or virtually via video conferencing applications. The game takes players into a world where a vaccine for COVID-19 has been successfully developed. Players are asked by the International Aeronautics and Space Administration to assemble an elite task force to travel back in time to distribute this vaccine and save the world from the yet-to-come pandemic. Players will encounter technical issues along the way that require the problem-solving skills of their team to successfully complete the mission.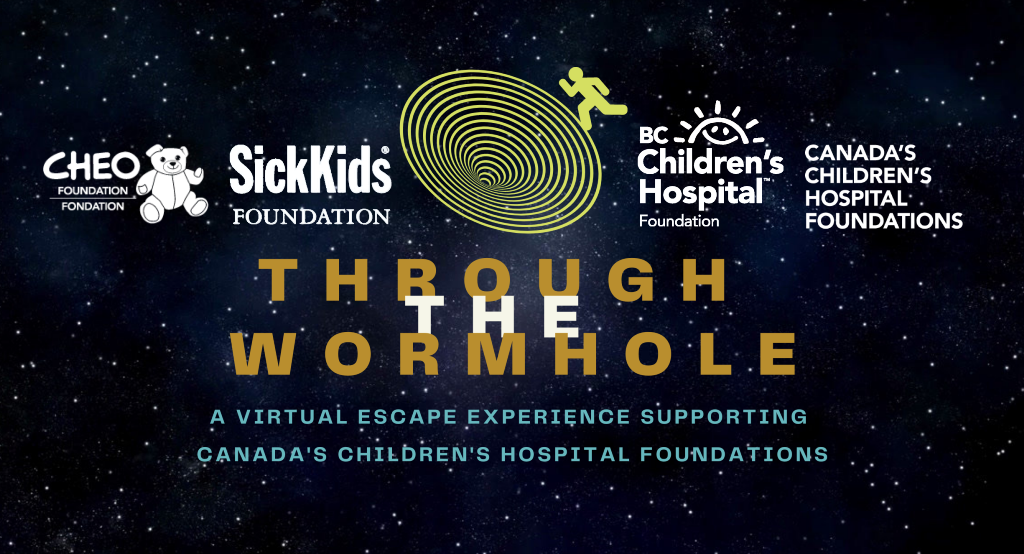 After playing the original Escape From Quarantine herself, Lydia Blanchard, the Director of Community Engagement at CHEO Foundation, reached out to the Escape From Quarantine team seeking to collaborate on the creation of a new game supporting the CHEO Foundation and CCHF. Through the Wormhole was created by neurologist, Dr. Corey Bacher and Casey Goldstein, a medical student. Bacher and Goldstein are a couple who met in Toronto, Ontario, although Goldstein is currently a third-year medical student at the University of Limerick School of Medicine, in Ireland. Bacher is presently working at multiple hospital sites across Toronto, including as a clinical fellow at the Hospital for Sick Children.
With the COVID-19 pandemic continuing to restrict travel and in-person gatherings across the globe, Through the Wormhole is a creative way to raise much needed charitable funds and to help people stay connected. The game is also a great option for companies looking for a unique team building activity, in lieu of traditional social gatherings.
Our goal was to support children's healthcare while creating a fun, safe, and innovative way to connect people around the globe through these difficult times. — Dr. Corey Bacher
"Our goal was to support children's healthcare while creating a fun, safe, and innovative way to connect people around the globe through these difficult times," said Bacher. "Children's health care is especially important to us and the chance to assist the CHEO Foundation and CCHF was an opportunity we were thrilled to have," added Goldstein.
Bacher and Goldstein were overwhelmed at the opportunity to now further extend support to SickKids Foundation and BC Children's Hospital Foundation.
"The success of this fundraiser and the charitable spirit of people around the globe has been greater than we ever expected." said Bacher. For Goldstein, the ability to add support for two new worthy recipients is exceptionally gratifying. "It's like a dream come true to provide much needed funds to these exceptional causes." said Goldstein.
Escape From Quarantine was initially born out of a desire by Bacher, Goldstein and their friend, Ethan Dassas, to connect their own friends during the social distancing measures necessitated by the COVID-19 pandemic. Recognizing the significant impact that COVID-19 was having on mental health they then decided to open the game up to the public and took the opportunity to support Canadians across the country by donating all proceeds to charity.
To play Through the Wormhole, players must make a donation through Escape From Quarantine's website, escapefromquarantine.com. Players will then receive an access code to begin the game. Teams will need to work together to solve puzzles and decipher clues to complete the challenge.
About Escape From Quarantine:
Based in Toronto, Escape From Quarantine creates online escape rooms with all proceeds supporting Canadian charities. Escape From Quarantine hopes to continue to partner with Canadian organizations seeking unique fundraising, and whose efforts have been limited by the restrictions on in-person fundraising events and unprecedented rise in the needs of communities. Learn more.
About the CHEO Foundation:
The CHEO Foundation is responsible for developing, accepting, distributing, and recognizing philanthropy in support of CHEO, the CHEO Research Institute and Roger Neilson House. Community support enables CHEO to offer a wide variety of pediatric programs, lead innovative research, acquire state-of the-art equipment, invest in ongoing medical and nursing education and provide assistance for families in crisis. Learn more.
About BC Children's Hospital Foundation:
BC Children's Hospital is the only hospital in the province devoted exclusively to the care of children and is one of the few pediatric medical centres in North America with a world-class acute care centre, research institute, mental health facility and rehabilitation centre all on a single campus. Leading experts at BC Children's provide a specialized level of expertise, innovative therapies and kid-focused care that can't be found anywhere else in the province, including for the sickest and most seriously injured. At BC Children's Hospital Foundation, we have a vision that every child is healthy and able to fulfill their hopes and dreams. The generosity of donors fuels our ability to help conquer childhood illnesses and address the biggest health challenges that face kids today.
About SickKids Foundation:
Established in 1972, SickKids Foundation raises funds on behalf of The Hospital for Sick Children (SickKids) and is the largest charitable funder of child health research, learning and care in Canada. Philanthropy is a critical source of funding for SickKids – one of the world's foremost paediatric health-care institutions. Thanks to the generosity of the community, and as a result of a record-breaking year in fundraising, SickKids Foundation generated more than $195 million and granted an unprecedented $144.9 million in support of child health for the fiscal year ending March 31, 2020. For more information, please visit sickkidsfoundation.com.
About Canada's Children's Hospital Foundations:
Canada's Children's Hospital Foundations (CCHF), established in 2017, is a not-for-profit organization that raises funds for a national network of hospital foundations as the largest single, non-government funder of child health in Canada. CCHF continues to receive generous support through donors within Children's Miracle Network® as well as contributions from additional companies and donors. Together, we represent 13 of Canada's children's hospitals where the greatest challenges are tackled; our hospitals see the most critical cases. Your contribution helps your local children's hospital ensure that all sick and injured children have access to the very best care from coast to coast. Learn more.