Kindness can never come too early
Sometimes the biggest hearts come in the smallest packages. When 10-year-old Jonathan, or "Bear" as he's often called and his friend Landon Brown, 18, first learned about closed playrooms and limited visitors at BC Children's Hospital due to the pandemic, their hearts went out to the young patients facing increased isolation.
Moved by these challenges, the two friends were encouraged and supported by the team at BC  Children's Hospital Foundation. They hatched a plan to reach out to their community and to leaders from top Canadian corporations with requests for tablets, toys and donations. Their message was heartfelt, passionate, and profoundly inspiring.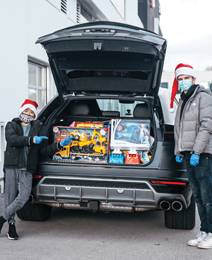 "We told everyone that we think all of these kids are very brave, but since they couldn't see all their family and friends, that they needed other ways to stay connected with loved ones," says Bear.
Their message caught the attention of leading companies like LEGO, Canadian Tire, Rogers and LG. Bear and Landon also partnered with Dreams on Wheels and Porsche Club of America Canada West to host zero-contact toy and tablet drop-offs.
The results were incredible. Packing up trailers to the brim, they hauled hundreds of tablets, electronic devices and toys to BC Children's. They also inspired more than $14,000 in donations.
From all of us at BC Children's Hospital Foundation, thank you Bear and Landon for your incredible compassion, creativity and leadership.