Q&A with the Foundation's new president & CEO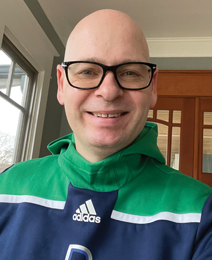 Q: What brought you to BC Children's Hospital Foundation?
A:The opportunity to live and work in beautiful British Columbia, alongside an amazing team supporting one of the best children's hospitals in the world, is like a dream come true for me. I'm excited to bring my  leadership and philanthropy experience into this new role–most recently, I was chief development officer at St. Louis Children's Hospital in Missouri, USA, and before that, I spent over a decade at SickKids Foundation in Toronto.

Q: How did you become involved in philanthropy?
A: Our first child, Paige, was diagnosed with a rare condition—haemophagocytic lymphohistiocytosis (HLH)—just weeks after being born, and from that point on, the hospital was her home. Despite experts working tirelessly to help her, even then I could see where advances in her clinical care were still needed. Paige died peacefully later that year. My wife Laura and I lived every moment we could while Paige was with us—she gave us perspective on what mattered, and taught us so much.
After Paige's passing, a passion grew within me to do everything I could to help families like ours. To make a long story short, I turned  my passion into a lifelong career.

Q: When it comes to children's health care, what are you most passionate about?
A: The quest to help every child, family and pediatric health expert reach their hopes and dreams. For kids, that might mean helping them reach their fullest potential. For experts here, it may mean giving them  what they need to pursue their vision for a life-saving treatment or technology. And by extension, helping members of our hospital community here reach their hopes and dreams will help the community at-large  reach theirs.

Q: What is your biggest learning during this pandemic?
A: A deeper realization that authentic connections are incredibly vital—and is what will enable us to be able to adapt to the changes we face, tackle challenges with creativity, and come out stronger on the other  side.