One donor's inspiration to start a monthly gift
While Barbara Insley drove to work one morning in the spring of 2009, a woman on the radio suddenly caught her attention.
"I heard a mom speak about how she had lost her six-year-old daughter due to an illness," Barbara recalled. "She talked about the wonderful care she received at BC Children's Hospital and the need to come together to advance research."
Those words sparked her desire to help. Barbara became a monthly donor to BC Children's Hospital Foundation that very morning, contributing to the ongoing funds that experts count on to solve the greatest health challenges facing kids. But after she had a daughter of her own, those gifts took on an entirely new meaning.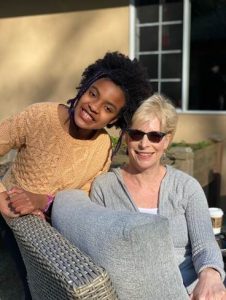 By the time Makeda was three years old, she was experiencing developmental delays—which led to an eight-year quest for a diagnosis.
Eventually, experts at BC Children's discovered that Makeda had a rare, fatal neuro-degenerative disorder called aspartylglycosaminuria, or AGU, believed to affect only 200 children worldwide. It has no known treatment or cure.
"As I found out more about it, I realized that I would watch my daughter deteriorate before my eyes—that she would slowly lose her cognition, speech and mobility," Barbara said. "That same rollercoaster of emotions that inspired me to donate 12 years ago has now become my life."
Barbara continues to tirelessly advocate for her daughter's health. In addition to her monthly contributions, she has started a charity, called the Rare Trait Hope Society, to raise awareness and support research for Makeda's disease.