Saving lives through gaming
How one eight-year-old is supporting the hospital that saved her life
There's no doubt that gaming has always been popular—and even more so during the pandemic. But for a young girl named Blayke, it's become a way to help kids who need it most.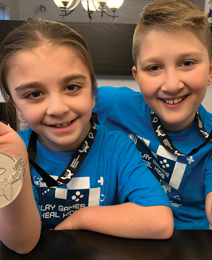 As the pandemic forced families  to stay home, the eight-year-old was determined to still find a way to support the hospital that saved her life. Along with her two brothers and parents, Blayke became involved in Extra Life, an online fundraising initiative that unites gamers across North America to play games and support their local children's hospital all year long.
In November, Blayke and her family took part in Extra Life's biggest annual event: a 24-hour,  livestreamed gaming marathon. "The kids loved it," Blayke's mom, Cassandra, said. "They got to play video games all day and there was no bedtime."
Their efforts raised over $2,800 for BC Children's Hospital, helping to fuel groundbreaking research, support life-saving equipment, and more.
"Our house is made up of gamers," Cassandra said. "It was the perfect  time to discover this style of fundraising, which lets us do something we love as a family while staying home."
Photo: Blayke, age 8, and her brother Ethan, age 10