A tasty way to give back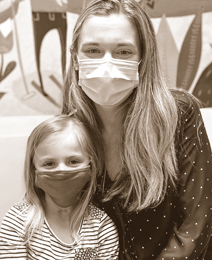 On New Year's Eve in 2017, then two-year-old Ellie's grandfather noticed a lump under her jaw. This moment soon turned into an eight-month journey at BC Children's Hospital to treat the rare, cancerous tumour that would nearly claim Ellie's life.
After 25 radiation treatments, six total rounds of chemotherapy, and surgery to remove the tumour, Ellie is now in remission. Instead of a hospital room, Ellie is spending time in kindergarten and dancing.
Grateful for the expert care Ellie received at BC Children's, Ellie's mother Racyne and their family are donating the tasting fees from their winery–Adega on 45th in Osoyoos– to give back to the hospital that gave Ellie a second chance.
Despite a tough 2020 for the hospitality industry, the family has donated $12,000 to support Precision Oncology for Young People (PROFYLE). The PROFYLE program aims to find new  personalized treatments and give new hope for oncology patients with tough-to-treat cancers who don't respond to traditional therapies.
Photo: Ellie with Dr. Rebecca Deyell