10 years of compassion in action
Youthful dedication finds a way
At the start of 2020, the Young Ambassadors Program (YAP) were preparing to host their annual SHINE Mother's Day Tea fundraiser, benefitting BC Children's Hospital Foundation.
But they were dealt an unexpected blow just weeks before the big day: COVID-19 forced the event's cancellation.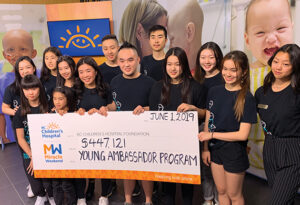 Undeterred, Arthur Chan, who founded the group 10 years earlier, and his fellow YAP members quickly switched gears.
Their tenacity, community spirit and ingenuity paid off. After gaining inspiration from a virtual Lady Gaga concert, the group quickly brought together a star-studded virtual concert of their own last August, featuring well-known youth musicians from around the world, as well as Canadian dignitaries like Prime Minister Justin Trudeau. It was a rousing success, and was followed by a second concert last December. Together, both concerts raised $160,000 and marked an incredible milestone: surpassing $2 million in funds raised for BC Children's in just a decade.
"Through the concert, we got to share with people around the world how important it is to raise funds to provide children with the best health care," Arthur says.
As a young adult, Arthur founded the group as an act of gratitude for the extensive care he received at the age of three from BC Children's, after his cancer diagnosis.
Since its launch, the group has grown in size and impact, from a core group of nine to a thriving movement of more than 100 annual participants. From recycling drives to tournaments, galas, and telethons, their continuous support has been motivated by a powerful desire to give back.
If there is anything Arthur and YAP have demonstrated, it's what the leadership of a dedicated group of compassionate young people can achieve when they work together.
"I'm very thankful to the whole team, all the parents, the alumni, everyone who's been with us through this journey," Arthur says. "Because without them, all this wouldn't have been possible."
This article was originally featured in the Progress Report 2020/2021.