A lifetime of transforming care
The legacy of a remarkable trailblazer
Pioneer, groundbreaker, passionate leader. Dr. J. Mavis Teasdale exemplified each of these qualities and more. Serving as the head of BC Children's Hematology, Oncology and BMT division from 1970 to 1987, she spent her life building up the pediatric oncology unit at the hospital.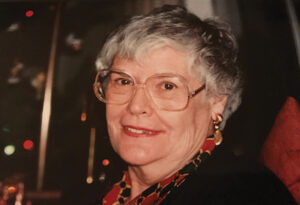 She paved the way for future generations of clinicians and researchers to better understand these diseases, thereby improving treatments, and saving the lives of kids suffering from cancer in this province.
She always made sure to look at health care as more than simply combatting the illness at hand, and this unique outlook would help her lay the foundation of pediatric oncology in British Columbia.
In the 1960s and '70s—when Dr. Teasdale was the sole hematologist and oncologist on staff at BC Children's—she looked carefully at how care was given with a keen eye. She worked to create a space that not only treated the disease, but as importantly, cared for the child receiving treatment.
Her goal was to help patients in any way that she could and for staff to better understand what these children and families were truly going through. For example, Dr. Teasdale reached out to trusted peer experts to hire a full-time psychologist to research and develop a pain and anxiety program, and engaged another for a workshop to educate staff on the processes of death and dying.
"Dr. Teasdale cared very much for what her patients were experiencing," says Dr. David F. Smith, colleague and friend to Dr. Teasdale. "She was always thinking about her staff and patients' well-being."
Dr. Teasdale took steps to ensure she could continue to help the kids in BC by creating a gift in her Will. To honour her life's work, passion and commitment, Dr. Teasdale's Will gift has established the Dr. Joyce Mavis Teasdale Endowment for Pediatric Cancer Clinical Education. A meaningful, ongoing footprint of our remarkable pioneer, Dr. Teasdale's caring values are carried into the future, benefitting generations to come.
This article was originally featured in the Progress Report 2020/2021.