On June 6 of 2021, three-year-old Ophelia laced up alongside her dad, AJ Delisle, to participate in the province-wide RBC Race for the Kids—a momentous occasion for any child so young, but especially for one who was born with Bartter syndrome, a rare kidney-related condition.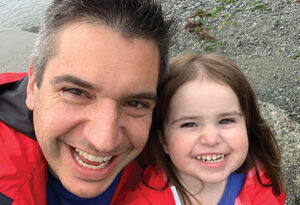 "When Ophelia was born, our family had an incredibly tough time figuring out what our new normal was going to look like," says AJ, community manager at RBC. Thankfully, we made it through those initial tough years with the support of BC Children's Hospital."
This was the second year in a row that AJ's family joined RBC Race for the Kids, an annual event that has raised over $15 million in support of BC Children's Hospital since its launch in 1986.
It's also the second year in a row that the event was held virtually, due to the COVID-19 pandemic. Despite the initial disappointment of the race community not being able to come together in person, there was a silver lining: participants could join in from across the province, including AJ's family from Vancouver Island. And the fun began weeks before the big day, with a month-long calendar of health-promoting family activities—including virtual workouts with RBC Olympians, chef-led cooking sessions and mindfulness training.
But the icing on the cake was the June 6 celebration. Participants of what has historically been known as Vancouver's largest family fun run were able to recreate the race day experience at home, thanks to packages mailed to them that included shoelaces, a medal, and even a finish banner to run through as they completed their route.
Following the virtual celebration, thousands of participants walked, jogged, or ran around their neighborhoods, each taking steps to support childhood cancer and mental health initiatives at the hospital.
"RBC Race for the Kids is a great opportunity for me to give back to Children's Hospital," AJ said. "I was inspired to participate because without the hospital, my daughter may not be alive today."
This article was originally featured in the Progress Report 2020/2021.