Beating leukemia at age two
"We can never repay what BC Children's has given to us—a cancer-free grandson."
When Traedan was born on Nov 24, 2010 his grandparents—Colin and Teresa Karpowich of Salmon Arm—instantly fell in love. Traedan was a healthy, happy little boy with a great sense of humor and a playful personality.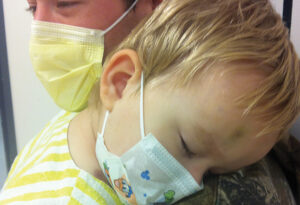 "We all loved him," says Colin. "He was a little bundle of joy."
However when Traedan was about to turn two years old, Colin and Teresa noticed the bruises.
"They were about the size of a quarter and were scattered over his shins, torso and face," says Colin. "It seemed strange he would bruise so easily."
After a visit with other family members who also noticed the bruising, Traedan was taken to the Salmon Arm Hospital. The attending physician took blood tests, and after consulting with experts at BC Children's, Colin and Teresa could never have anticipated what they would hear next.
Traedan had acute lymphoblastic leukemia. And the cancer was at a critical stage.
Traedan was flown to BC Children's in the middle of the night to start treatment immediately. Dr. Caron Strahlendorf, Division Head of Pediatric Oncology, Hematology and Bone Marrow Transplant was assigned to Traedan's case.
"Dr. Strahlendorf put us at ease immediately," says Colin. "She let us know that Traedan's treatment is routine for them, and their intention was to do everything they could to cure his leukemia."
Traedan spent nine months in treatment and recovery at BC Children's. And today, nine years later, Traedan is a happy and healthy child.
Through their experience, Colin and Teresa grew to understand just how important BC Children's is to all kids from across the province who suffer from illnesses like Traedan's.
"We've become monthly donors because we recognize how important this is to the families of BC," says Colin. "We have world-class doctors, facilities and staff, and we'll continue to give because it was once Traedan's story, but today it is somebody else's. We can give and give and give, but we can never repay what BC Children's has given to us—a cancer-free grandson."
Thanks to the generosity of monthly donors like the Karpowich family, experts at BC Children's are provided a reliable stream of funds. This allows the researchers and clinicians to take bigger and bolder steps forward, knowing they'll have the resources to make them a reality.
This article was originally featured in the Progress Report 2020/2021.