Giving from one generation to the next
When Lisa Greczmiel's youngest son developed strep A, she was shocked at how quickly the disease became serious.
"It developed into a blood clot on his skull along with all the complications that came with that," says Lisa. "He had a two week stay at BC Children's, and to this day he still talks about the wonderful staff he met."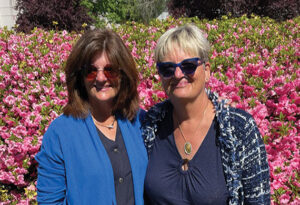 In particular, Lisa recalls a nurse who, when her son was having trouble ingesting large tablets of medicine, went out of her way and requested the pharmacy change the format so that they were easier for him to swallow.
"BC Children's is an amazing facility with exceptional people who give tirelessly to help heal our future generations," says Lisa. "What could be better than that!"
Lisa, her sister Michele, and their families are beacons of generosity and giving back to their community. To them, it was a responsibility and a joy passed down by their father, developer Gene Greczmiel.
Throughout his storied life, Gene built homes, neighbourhoods and businesses throughout the region, and in particular Richmond. Following great success in business, Gene started to give back to the community that had given him so much.
"Our family has always felt a strong connection with health care in our community," says Lisa. "Our father started it and then my sister and I felt that it was something we would like to continue."
As long-time supporters of BC Children's including in the areas of next-generation technologies, rare diseases and oncology, the Greczmiel's impact on health care will continue to be felt by every patient who enters the hospital doors.
"There is nothing like the feeling of helping others when they truly need it and you're able to provide that help," says Lisa. "We have six children between my sister and I, and they are also starting to give back in ways that they can manage. Our hope is that this will always be a part of our family's legacy for generations to come."
This article was originally featured in the Progress Report 2020/2021.