COVID-19 isn't the only pandemic that's disrupting the lives of children and youth across BC. After the virus caused widespread lockdowns and turned our lives upside-down, mental health care requests for kids skyrocketed, creating a "shadow pandemic" with effects that could linger long after pandemic restrictions have lifted.
"Even preceding the pandemic, the number of kids and young people asking for help for mental health and substance use issues had been increasing," said Dr. Roberto Sassi, psychiatrist in chief, BC Children's Hospital. "With all the data that we have so far, not only in BC but across the country and even in the US, the pandemic seems to be accelerating this even more."
COVID-19 has worsened an already difficult situation. Even before the pandemic, the numbers were staggering: in 2020 over 95,000 kids and youth in BC were impacted by mental health issues. That's almost 250 schools filled with children, and about 60 per cent of them were not getting the support they needed.
The impacts of the pandemic, including cancelled activities, social isolation, financial issues and the ever-present threat of the virus itself, have all put an incredible number of additional stressors on kids. For many young people already experiencing mental health challenges, the pandemic worsened their conditions, transforming a rising tide into a tidal wave.
Consequences that could last a lifetime
The shadow pandemic of mental health disorders won't simply disappear once COVID-19 is under control. Childhood and adolescence are crucial formative times, and disrupting the mental, emotional and social development during these phases of kids' lives can have harmful effects for years, and possibly generations, to come.
Children with mental health conditions like anxiety and depression are at a higher risk of harmful behaviours such as dropping out of school, self-harm, problematic substance use or more. As they grow into adulthood, they're more likely to experience long-term life challenges like unemployment or chronic social isolation, if these conditions are not treated earlier.
The stakes are high, but so is the commitment of experts here who are working tirelessly on new advances to help more kids and youth as the tidal wave grows.
"Intervening early is crucial—we have a much better chance of restoring young people's health and preventing negative outcomes if we provide support and treatment as early as possible."
— Dr. Roberto Sassi, psychiatrist in chief, BC Children's Hospital
Technology is lighting the way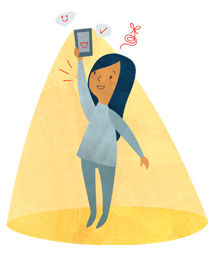 Technology holds enormous potential to reach more children and families, gather more real-time data and feedback, and create more communication channels for kids to open up and share about their mental health challenges—ultimately, enabling them and their families to receive more support.
One example is in the area of novel smartphone apps, which can ask patients how they're feeling throughout the day, gathering data in realtime and in real-life situations. These apps allow medical experts to gather higher volumes of data over longer periods of time so they can work towards crafting more effective, personalized treatment options.
Chatbots, computer programs powered by artificial intelligence, can reach a wider number of young people and give them a nonintimidating way to talk about mental health. Designed according to evidence-based therapeutic techniques, these chatbots can start the conversation, then hand off to a human therapist if needed.
"We're on the verge of a big explosion of very novel and interesting technologies being used in mental health."
— Dr. Roberto Sassi
With the help of cutting-edge technology, mental health experts will be able to reach more kids and youth and provide more support through customized treatments, giving them the help they need—when and where they need it.
Shining a light on the shadows
COVID-19 has applied overwhelming pressure on young people for the past two years, pushing the growing pandemic of mental health issues out of the shadows and into the open. Despite these challenges, there's a bright light on the horizon. New tools and treatments will help kids and youth enjoy better lives—now and for years to come.
This article was originally featured in the Spring 2022 issue of Shine magazine.