A truly life-saving donation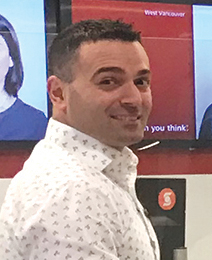 There was a time when Faris did not know if his brother, William, would make it.
What started as flu-like symptoms quickly had the 15-year-old admitted to BC Children's Hospital. After thorough testing, William was diagnosed with hemophagocytic lymphohistiocytosis (HLH)–a rare immune disorder where white blood cells attack the body's organs. His family was devastated.
The disease had taken a toll on William's bone marrow. In September 2002, his care team began to consider a transplant. "It can be quite an extensive process to find a match," said Faris, "We were very fortunate that both my father and myself were matches for my brother."
One month later, Faris donated his bone marrow for a transfusion. However, that was just the beginning of his family's journey. William started chemotherapy after the transplant. Faris and the rest of the family were by his side throughout his treatment and they comforted him during the especially difficult moments.
In 2005, after a three-year battle, William completed his treatment at BC Children's Hospital. Faris attributes this outcome to the doctors and staff. "The care that we received from the hospital was second to none," said Faris, "The compassion, the empathy… they left no stone unturned."
Faris also credits William's survival to his resilience. Today, William has a successful career, a wife and a four-year-old son, with another child on the way.
"The odds were stacked against him. I'm really proud of him and feel really fortunate that he was able to overcome this."
– Faris, Scotiabank Branch Manager
For Faris, his love for the hospital has come full circle. Today, he is a Branch Manager at Scotiabank and one of the leaders of their employee fundraising campaign. Nothing gives him greater joy than giving back to the hospital that saved his brother.
Helping kids in all corners of BC
Inspired by the passion and dedication of employees like Faris, Scotiabank has committed $750,000 towards the
Diabetes Transformation Project, which is expanding expert diabetes care and resources for kids and families across the province. Diabetes is a rapidly growing epidemic among children and initiatives like this are vital to help families manage this lifelong condition.
This article was originally featured in the Spring 2022 issue of Shine magazine.
Shine Spring 2022 | Download the PDF