Honouring exceptional care in Zach's memory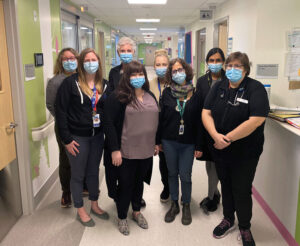 We are so grateful for the exceptional health care teams at BC Children's who dedicate their lives to caring for children.
Inspired by their expert and compassionate care, the Zach Prince Foundation made a generous gift to recognize Dr. Caron Strahlendorf, head of pediatric hematology, oncology and bone marrow transplantation, and the oncology team, for their unparalleled commitment and dedication.
"We are honoured to recognize Dr. Strahlendorf, a brilliant oncologist, and her extraordinary team for their care for BC's most vulnerable patients and families," said Zach's father Dana Prince, who along with Zach's mother Elana, co-founded the organization, which funds education, training and programs to promote excellence in oncology care.
The Zach Prince Foundation has provided more than $760,000 in support of BC Children's oncology programs.
This article was originally featured in the Spring 2022 issue of Shine magazine.
Shine Spring 2022 | Download the PDF