In the business of helping others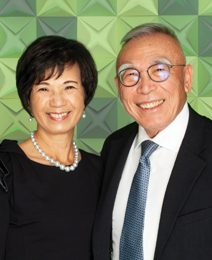 Moving from Hong Kong in 1975, Donald Leung, like many new immigrants, started his life in Canada by working odd jobs, learning as he went and having a strong work ethic.
Even in those early days, Donald valued people and has always been passionate about taking care of those around him.
While working on the road as a truck driver, Donald often donated the spare change saved from buying lunch to those less fortunate. Philanthropy was a part of his DNA, even in those years with little money to his name. He still found small, impactful ways to help the community around him.
After years of hard work, Donald founded Donald's Meat Distribution in 1993, a company specializing in the procurement and delivery of quality meats. The company grew rapidly through the 1990s, expanding its lines of business to become a premier, state-of-the-art meat distribution and processing operation. The company was renamed
"Donald's Fine Foods" in 2005 and today, employs over 800 people across the nation and exports to more than 25 countries.
After establishing his business in Canada, Donald continued to help others by supporting worthy causes. As the company grew, so too did the philanthropist within Donald. Inspired by their humble beginnings, Donald's Fine Foods and the Donald and Julia Leung Family Foundation have made transformational changes in their community
through their generosity and compassion.
The family made an extraordinary commitment of $1 million to BC Children's Hospital to help accelerate groundbreaking pediatric oncology research, helping to advance innovative research that is instrumental in the quest to conquer childhood cancers. This gift reflects Donald's legacy of caring for those around him. With this gift, his impact will shape future generations, ensuring a brighter future for children across the province and around the world.
This article was originally featured in the Spring 2022 issue of Shine magazine.
Shine Spring 2022 | Download the PDF