A gift that spans generations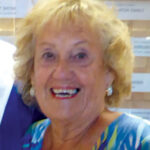 As a long-time Girl Guides leader, it makes perfect sense that Joan Glass planned out her life for decades, including a legacy gift to express the gratitude she felt for BC Children's Hospital Foundation.
When Joan's daughter, Nadine, went into premature labour at 25 weeks, she had to be urgently airlifted from Prince George to BC Children's Hospital. Baby Nicole was born one day later—she weighed barely two pounds, couldn't breathe on her own and had to be tube-fed.
History repeated itself as Nadine's second child, Kieran—named after the paramedic who helped Nadine during her
first pregnancy—was born at just 30 weeks.
Despite starting life as fragile, premature infants, both Nicole and Kieran are now thriving, healthy young adults. Whenever she thought of her grandchildren, Joan felt deeply grateful for the team of specialists who gave her
grandkids the chance to live vibrant and active lives.
As a long-time member of the Legacy Circle and proud grandmother of nine, Joan knew her legacy gift for BC Children's would represent her most precious values: family and community service.
"My legacy helps other kids take on the world tomorrow," said Joan.
Even for those who aren't as organized as a Girl Guides leader, establishing a legacy gift can be an easy process. Follow the simple checklist at bcchf.ca/legacy-resources to create a legacy you can be proud of.
This article was originally featured in the Fall 2022 issue of Shine magazine.