Get to know our leaders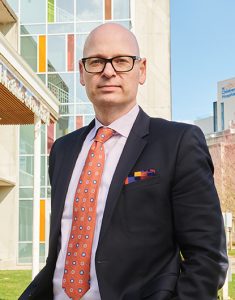 Malcolm Berry
President & CEO
Since March 2021, Malcolm Berry has led the team at BC Children's Hospital Foundation as president & CEO—bringing with him a proven track record of philanthropy and leadership accomplishments in pediatric health care.
Malcolm previously served as chief development officer at St. Louis Children's Hospital in Missouri. During the four years he spent there, Malcolm was instrumental in driving the hospital foundation's strategy focused on rebuilding and growth, overseeing its first fundraising campaign in over a decade, and increasing the organization's revenue by more than 45 per cent.
Prior to this, Malcolm spent over 10 years at SickKids Foundation in Toronto in many roles—most recently, as vice president of major gifts, where he oversaw major gifts, gift and estate planning, stewardship and donor relations.
An active community volunteer, Malcolm has also served in leadership roles with The Woodmark Group, a North American organization of premier children's hospitals, and the Canadian Association of Gift Planners.
Malcolm has a Bachelor of Science from Queen's University, a Bachelor of Education from the University of Toronto, and a Master of Business Administration from McMaster University. In his personal time, Malcolm's passions include coaching and watching hockey, wine (especially Australian varieties), theatre, music and his family.
"I am deeply committed to helping every child, family and pediatric health care provider achieve their loftiest goals and highest hopes. Why? Because in doing so, we will be helping our broader society achieve theirs."
Raquel de Munain
Vice President,
People & Culture
As vice president of people and culture, Raquel de Munain is responsible for a broad range of activities, including recruitment, recognition, employee relations, onboarding and orientation, compensation and training and development. She also leads many innovative initiatives aimed at enhancing the culture at the Foundation—which has been named one of BC's Top Employers for over 13 years in a row.
Prior to joining the Foundation in 2010, Raquel gained broad industry experience having worked as a human resources consultant in financial services and human resource management experience in retail and hospitality.
Raquel has a Master of Business Administration with a concentration in Human Resources Management. She is also a member of the Charted Professional in Human Resources (CPHR) Management Association and holds a CPHR designation.
"A strong culture is integral to advancing our quest to transform the lives of kids and families through exceptional care—and I'm honoured to lead this work."
Surina Sproul
Vice President, Marketing & Communications
Surina joined BC Children's Hospital Foundation in 2016. As Vice President of Marketing & Communications, she oversees brand stewardship and strategy, and leads a team of marketers, writers and designers who help inspire support for one of the most recognized and highly regarded institutions in the province through powerful storytelling.
Prior to joining the Foundation, Surina spent over a decade in advertising at Wasserman & Partners. While there, she played an instrumental role in strengthening the brands of many iconic BC-based companies—with a focus on marketing to drive positive social change.
Surina holds a Bachelor of Commerce degree from the Sauder School of Business at the University of British Columbia.
"I have the privilege of observing what happens at BC Children's—both the extraordinary people working to advance research and care, and the families whose lives are forever changed by it. I am humbled and inspired by the tenacity and the resilience of both."
Rita Thodos
Vice-President, Philanthropy, Corporate & Community Giving
Rita joined BC Children's Hospital Foundation in 2015. She currently oversees the annual fundraising teams in Corporate, Community and Business Development.
Prior to joining the Foundation, Rita was the Vice President, Fund Development at Pacific Autism Family where she oversaw the completion of a $33 million capital campaign.
Before that, she served as National Director, Development & Operations at Juvenile Diabetes Research Foundation (JDRF) Canada, where she was responsible for overseeing the operations of the fundraising teams nationally, and providing strategic leadership to achieve all fundraising and new business development goals.
Prior to embarking on her 20+ year career in the non-profit sector, Rita had a successful career in accounting and finance as the Corporate Controller for several Vancouver companies. In this role, she quickly developed a reputation for specializing in streamlining business processes and operations to improve efficiency and overall net revenue.
Rita is a YWCA Women of Distinction Award Nominee, a multiple JDRF National Award winner and an active member of her community. She has served as a member of the Canadian Diabetes Strategy Review Committee and is an active member of the Association of Fundraising Professionals as an e-Career mentor. Rita holds a Certified Fundraising Executive designation.
"What an incredibly rewarding place to work. Each and every day, there is remarkable work being done on this campus that is transforming healthcare outcomes for the kids we serve. When we can align a donor's passion to the work or specific project taking place at the hospital—magic happens."
Joanne Waxman
Vice President, Strategic Partnerships
Joanne joined the Foundation in late 2014 and helped to establish its Strategic Partnerships department.
Joanne and her team work closely with key clinical, research and operations leadership and partners at BC Children's Hospital and its Research Institute to understand the areas or initiatives where philanthropy can play a role and are responsible for creating fundraising opportunities and proposals that inspire support. They also monitor donor-funded initiatives to ensure impeccable donor accountability and stewardship.
Prior to joining BC Children's Hospital Foundation, Joanne spent eight years with VGH & UBC Hospital Foundation where she was the Director of Strategic Partnerships & Projects.
"The incredible work that is done each and every day by the dedicated medical experts at the Hospital and Research Institute is truly inspiring. It is a privilege to help bring their vision to life through the impact of philanthropy."

One
BC Children's is the only hospital in the province devoted exclusively to children

99,000+
kids visited the hospital for specialized pediatric services last year

1,000+
researchers on our campus work tirelessly to discover new treatments
Overcoming remarkable odds
"Blayke may never be able to conquer Turner syndrome fully, but she fights every day to make sure it doesn't stop her from being her." — Cassandra, Blayke's mom
Blayke's story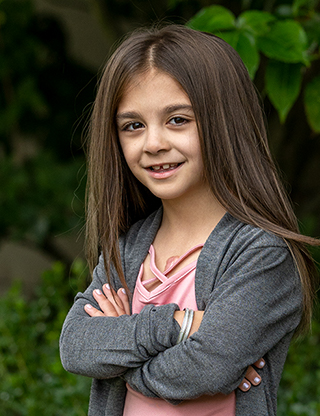 Our priorities
More than a million kids count on BC Children's Hospital. We're on a quest to transform health care for all of them.
Learn more
Your impact
Donors like you are the reason we can aim higher for our kids. Discover the successes that you've made possible.
Learn more