Get to know our leaders
Teri Nicholas
President & CEO
As one of British Columbia's largest charities, the Foundation supports the work of BC Children's Hospital, its Research Institute and Sunny Hill Health Centre for Children. Teri joined the Foundation in January 2011 and led the organization to the completion of a $200-million capital campaign, to support the construction of the new Teck Acute Care Centre—and establish Child Health BC to provide increased care to kids in their home communities around the province. Teri's leadership and emphasis on winning broad community support, and on building awareness of child health, continues to advance the Foundation's vision that every child is healthy and able to fulfill their hopes and dreams.
Prior to joining the Foundation, Teri held the position of CEO at Family Services of Greater Vancouver for 10 years. Teri has over 30 years of senior leadership experience in the not-for-profit social service sector, working closely with advocacy groups, community agencies, funders and major donors, and multiple levels of government. Throughout her career, Teri has contributed her time and talents to many not-for-profit organizations provincially and nationally, and has developed and implemented a range of services for marginalized children, youth, women and families in the Lower Mainland.
Teri holds a master's degree in social work from the University of British Columbia and a bachelor's degree from the University of Wisconsin.
"It's rewarding to see the positive impact community support for BC Children's Hospital, Sunny Hill and the Research Institute has on individual children. It's even more rewarding to know that the beneficiaries of the work we're doing here are children, families and society as a whole."
Akash Rattan
Vice President & Chief Financial Officer
Bio to come
Maria Faccio
Vice President & Chief Philanthropy Officer
Maria is responsible for overseeing Corporate & Community Philanthropy and Events at BC Children's Hospital Foundation.
Her portfolio focuses on relationships with BC and national corporations and organizations, on building partnerships with key communities that reflect the rich diversity of the province, and on engaging support through our signature galas and events.
Maria has grown with the Foundation for more than 20 years and has experience in virtually every area of the organization. Her collaborative leadership and people management experience—working to recruit, build, coach and mentor staff and volunteer leadership—has contributed to the success of numerous fundraising campaigns.
"It is amazing to see the overwhelming support from our philanthropic partners who embrace our vision and mission for the children and families of this province."
Lillian Hum
Vice President & Chief Philanthropy Officer
Lillian oversees Individual Giving Philanthropy, Donor Relations and Research & Prospect Management at the Foundation. Her team is responsible for ensuring our individual donors and family foundations are engaged and informed as full partners in our quest to innovate and greatly advance child health.
Lillian joined the Foundation in 2011 as the director of Donor Relations and led the development of a comprehensive program prior to joining the executive team in 2013. In addition to her overarching responsibilities, she is actively involved in partnering together with the Chinese community's philanthropic efforts.
Having served over 10 years with VGH & UBC Hospital Foundation as its director of Donor Relations, Lillian brings a wealth of knowledge and experience to BC Children's Hospital Foundation. She has worked extensively with community philanthropists and leaders across our province.
"The resilience of children and their families propels us to do our very best to ensure every child has the best chance for a healthy childhood."
Surina Sproul
Vice President, Marketing & Communications
Surina joined BC Children's Hospital Foundation in 2016. As Vice President of Marketing & Communications, she oversees brand stewardship and strategy, and leads a team of marketers, writers and designers who help inspire support for one of the most recognized and highly regarded institutions in the province through powerful storytelling.
Prior to joining the Foundation, Surina spent over a decade in advertising at Wasserman & Partners. While there, she played an instrumental role in strengthening the brands of many iconic BC-based companies—with a focus on marketing to drive positive social change.
Surina holds a Bachelor of Commerce degree from the Sauder School of Business at the University of British Columbia.
"I have the privilege of observing what happens at BC Children's—both the extraordinary people working to advance research and care, and the families whose lives are forever changed by it. I am humbled and inspired by the tenacity and the resilience of both."
Joanne Waxman
Vice President, Strategic Partnerships
Joanne joined the Foundation in late 2014 and helped to establish its Strategic Partnerships department.
Joanne and her team work closely with key clinical, research and operations leadership and partners at BC Children's Hospital and its Research Institute to understand the areas or initiatives where philanthropy can play a role and are responsible for creating fundraising opportunities and proposals that inspire support. They also monitor donor-funded initiatives to ensure impeccable donor accountability and stewardship.
Prior to joining BC Children's Hospital Foundation, Joanne spent eight years with VGH & UBC Hospital Foundation where she was the Director of Strategic Partnerships & Projects.
"The incredible work that is done each and every day by the dedicated medical experts at the Hospital and Research Institute is truly inspiring. It is a privilege to help bring their vision to life through the impact of philanthropy."

One
BC Children's is the only hospital in the province devoted exclusively to children

96,000
kids visit the hospital for specialized pediatric services each year

1,000+
researchers on our campus work tirelessly to discover new treatments
Overcoming remarkable odds
"Blayke may never be able to conquer Turner syndrome fully, but she fights every day to make sure it doesn't stop her from being her." — Cassandra, Blayke's mom
Blayke's story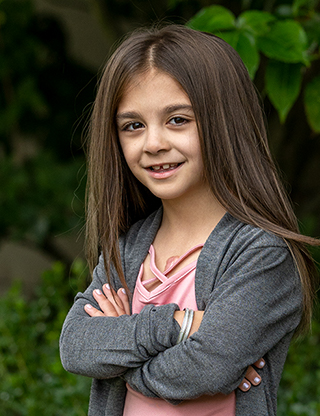 Our priorities
More than a million kids count on BC Children's Hospital. We're on a quest to transform health care for all of them.
Learn more
Your impact
Donors like you are the reason we can aim higher for our kids. Discover the successes that you've made possible.
Learn more