A new, state-of-the-art facility has been specially designed for the patients, families and staff of Sunny Hill
Kids at Sunny Hill Health Centre face unique challenges as they recover from life-altering events like traumatic injuries or strokes, or receive assessments or care for developmental conditions like cerebral palsy. These children often show strength and resilience beyond their years.
But now, a new beginning awaits them. Sunny Hill Health Centre—the only pediatric rehabilitation and developmental services facility of its kind in BC–re-opened its doors on the campus of BC Children's Hospital in late August 2020 as a one-of-a-kind facility, thoughtfully designed for the kids and families there.
The support of committed and generous donors and other supporters is helping to elevate the care patients receive through enhancements like state-of-the-art technology and equipment and innovative spaces that expand therapy options and include outdoor areas for mobility training, relaxation and play. And a collection of curated artwork throughout the facility helps to create a warm and calming healing environment.
This new, state-of-the-art facility will meet the specific needs of its patients and families, while improving their experience.
A new, enhanced Sunny Hill
Built as part of the third and final phase of BC Children's and BC Women's Redevelopment Project, the new Sunny Hill was made possible through significant support from the Government of British Columbia, Provincial Health Services Authority and our committed and generous donors.
BC Children's Hospital Foundation also launched the Sunny Hill Enhancement Initiative, which raised additional funding from donors, and exceeded its goal of $14 million, with a significant capstone gift from the Lalji Family. Donor support from across BC is helping to create a new facility that is just as special as the children it serves, and enables its experts to deliver care that's especially tailored to their patients.
With an acute care facility, research institute, mental health centre, and now, a state-of-the-art rehabilitation and developmental services facility all on one hospital campus, patients will receive seamless integrated care on one hospital campus, where multi-disciplinary teams can connect in ways never before possible to deliver the best care throughout a child's entire journey at BC Children's Hospital.
Healing spaces
Warmth and care is demonstrated in every detail of this new facility, creating a home-like and welcoming environment for kids, families and staff. Some of the remarkable spaces include: an outdoor garden for patients to improve their mobility on varying terrains, a multi-level pool with movable floors and water jets, and a world-class gym with a basketball court, practice kitchen, and state-of-the-art technology.
In addition, some of the spaces honour the significant support from several of our most generous donors: Blaauw Family Hilltop Patio, a calm outdoor haven for relaxation and active therapy; Dr. Hilary and Patsy Hui Patient and Family Lounge, a sanctuary for recreation and social connections for inpatient families; Djavad Mowafaghian Welcome Gallery, where visitors step into a healing environment flooded with natural like and engaging art; and Peterson Family Gathering Space that features a child play area and enclosed dining space for families spending long days here.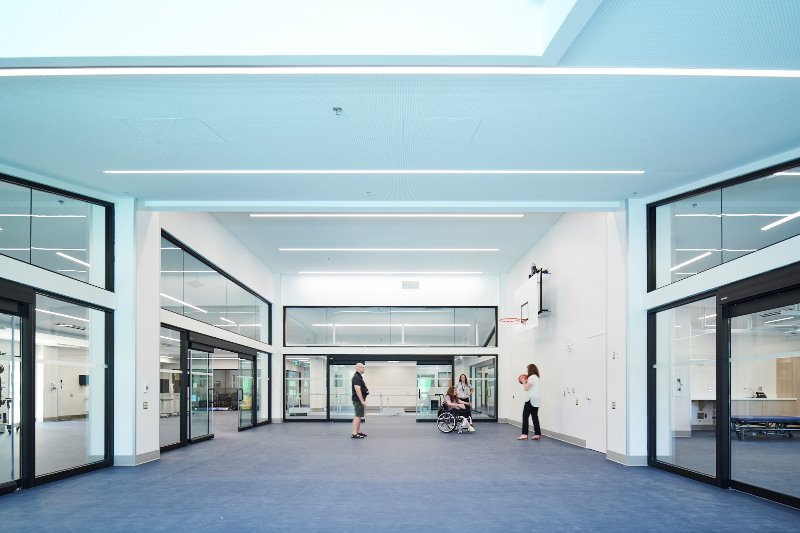 Purposeful art
As part of the initiative, the Children's Healing Experience Project at Sunny Hill curated a collection of original paintings, murals, interactive installations, sculptures and indigenous artwork.
Twenty-eight artists and five iconic community partners, all from Canada, contributed their expertise and passion to the project. Sunny Hill patients and families had the final say in the selection of the artwork, making each piece "kid approved."
This art, which fills the halls and spaces of Sunny Hill, not only helps create a healing environment, but also supports the therapeutic needs of each area. For example, animal sculptures in the outdoor garden serve as milestones to help mark progress for kids working to improve their mobility in a real-world setting.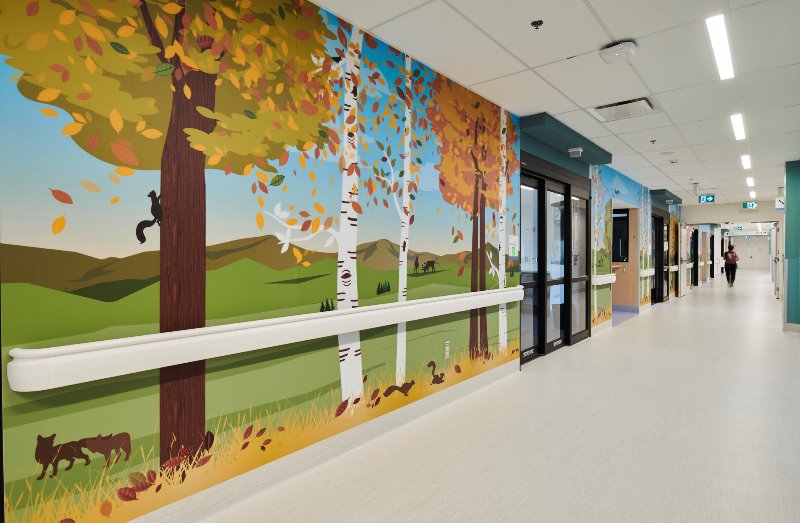 Innovative equipment and technology
The new Sunny Hill is also equipped with the latest, state-of-the-art technology and innovation designed to help customize therapy and recreational options for patients and staff, which in turn can help improve their overall health outcomes and experience during their time here.
Some examples include: 3D printing, an enhanced clinical innovation lab where technologies such as smart home integration are assessed; interactive technologies that can be customized for each child's therapy and engagement; and Western Canada's very first functional electrical stimulation (FES) bike and stepper intended to build muscle strength during supported cycle and stepping exercises, through low-energy electrical pulses to help simulate body movements.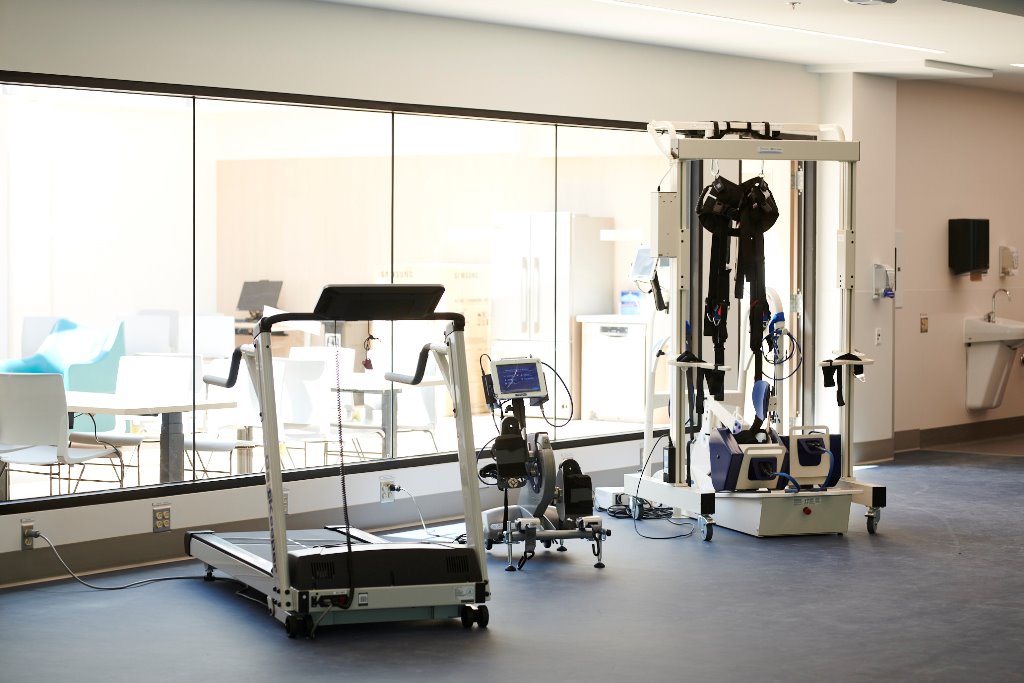 A new beginning
When it comes to advancing children's health care and transforming lives, it takes every one of us. The new Sunny Hill demonstrates this in incredible ways.
Thanks to the outpouring of support from all our donors, community partners, our committed volunteer committees and Canadian artists, the vision to provide the very best to patients across the province who rely on Sunny Hill Health Centre is now a reality.