Schools and Youth
You're never too young to make a difference. Come to think of it, we often see that it's some of the smallest supporters who have the biggest hearts—not to mention some pretty impressive ingenuity. Over the years, countless kids have inspired us with their compassion and creativity in helping other kids in need. They've hosted pajama days, shaved their heads, cut their hair and done a whole lot more. And because their imaginations and hearts have no limits, neither do ours when it comes to enhancing children's health care.
There are a number of ways that kids and teens can support our work.
Join an event
You can take part in our annual Jean Up campaign or, run or walk at RBC Race for the Kids—the largest family fun run in Vancouver. Join either event on your own or start a team for your school.
Plan your own event
Bake sales. Bottle drives. Pajama days. Movie nights. Those are just a few ways that kids have raised money for our hospital. We can't wait to see what you come up with. Get started now
Birthday donations
Use your special day to change lives by asking for donations in support of our province's sickest kids. Kids who are under 12 will earn a membership to the Sunny Bear Birthday Club. Learn more
Wigs for Kids BC
Wigs for Kids BC is currently accepting hair donations by mail only. Please contact us for information on where to mail your hair and any monetary donations you have collected.
You can still support this program by making an online donation, or creating a personal fundraising page in support of Wigs for Kids BC. Funds raised will continue to support the cost of providing wigs for kids in BC suffering from hair loss due to their illness as well as supporting families with medication and feeding supplies not covered by MSP. Now, more than ever, this is so important due to the uncertain financial situation many families are facing. Thank you for your support.
Balding for Dollars
Join an existing event, or start your own to help improve the lives of kids with cancer. Don't worry: you don't have to shave your head to make a difference—but you are, of course, welcome to. Register to fundraise
Young Ambassador Program
The mission of the Young Ambassador Program is to inspire youth to lead meaningful and fulfilling lives while also supporting BC Children's Hospital through fundraising and awareness building. Comprising of members between the ages of 3 and 21, the program has achieved tremendous success since it was founded in 2010.
Through various fundraising and leadership development opportunities, members have learned important life lessons while participating in community initiatives that help to sharpen their communications, team-building and project management skills. Learn more at yapbc.ca or contact jessica.lai@bcchf.ca for more information.
For more information on how to get involved, contact our schools coordinator at 604.449.6333 or schools@bcchf.ca.

One
BC Children's is the only hospital in the province devoted exclusively to children

99,000+
kids visited the hospital for specialized pediatric services last year

1,000+
researchers on our campus work tirelessly to discover new treatments
Overcoming remarkable odds
"Blayke may never be able to conquer Turner syndrome fully, but she fights every day to make sure it doesn't stop her from being her." — Cassandra, Blayke's mom
Blayke's story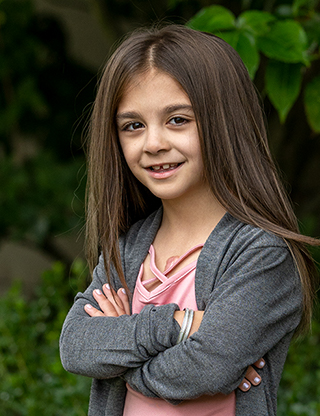 Our priorities
More than a million kids count on BC Children's Hospital. We're on a quest to transform health care for all of them.
Learn more
Your impact
Donors like you are the reason we can aim higher for our kids. Discover the successes that you've made possible.
Learn more